Report from: Jay
March 1st, 2019

Spent most of the day out and about but once I got home it was upgrade and troubleshooting time.
Greg T. was kind enough to send me 512MB of RAM for free. Along with the 512MB I had I could max this thing out at 1GB. Also ready were an AirPort card and new battery. The original 80GB HDD was having a few quirks but I left that in anyway.
Upgrading the internals is easy in these things so the new RAM is in, as are the AirPort card and battery.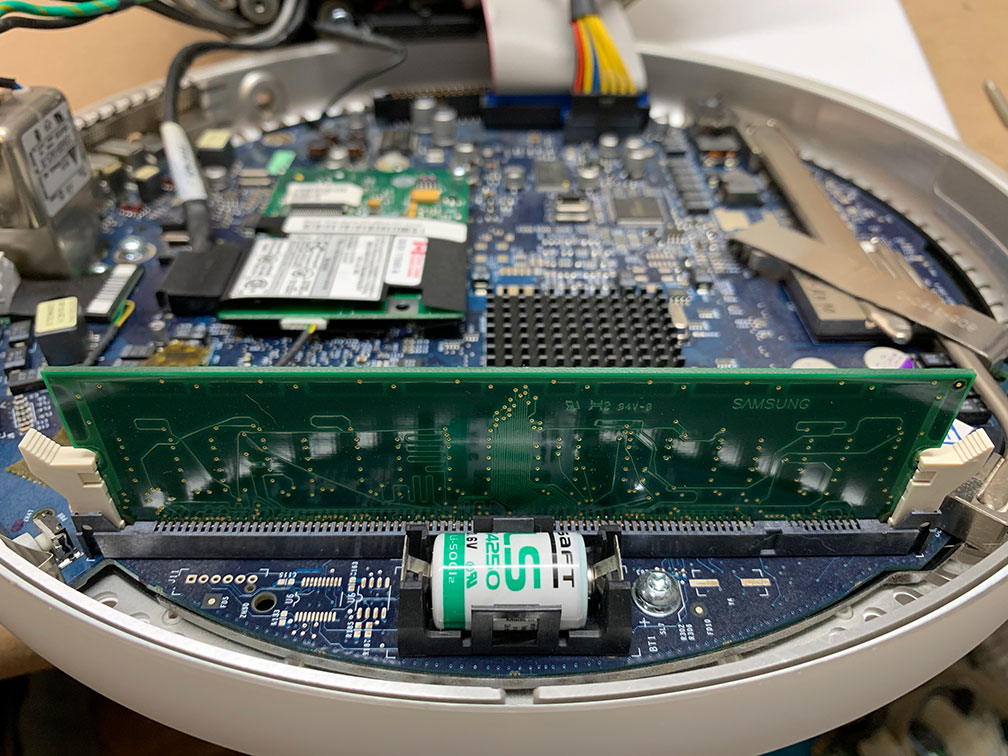 However when I fired the Mac up, OS 9 showed me there was an issue with the RAM and only recognized 768MB of the 1GB. Swapped out a few modules but the issue persisted. Norton kept giving me errors telling me there was an issue with the drive and was unable to repair it. Attempting a repair while booted from the OS X partition also failed. I need to use this Mac for a week so it has to be in better shape than this…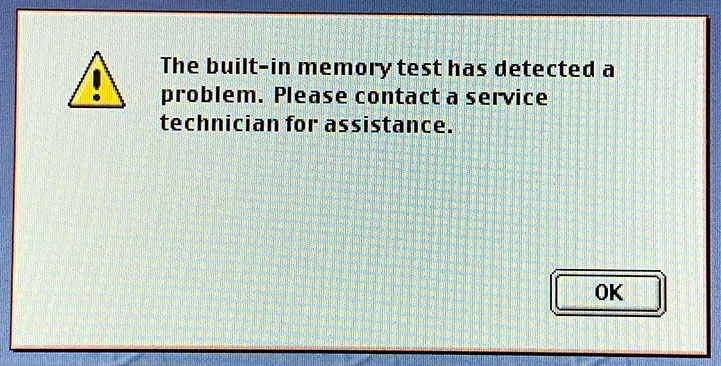 Hardware test
I snagged 693-4398-A.dmg (iMac Hardware Test v1.2.2) from macintoshgarden, burned it to a CD and let it loose on the iMac. After completing it's tests it told me all memory passed but also showed me an ***ERROR*CODE*** for DIMM1, or J22. Yes, not an error code number or reference, but ***ERROR*CODE***…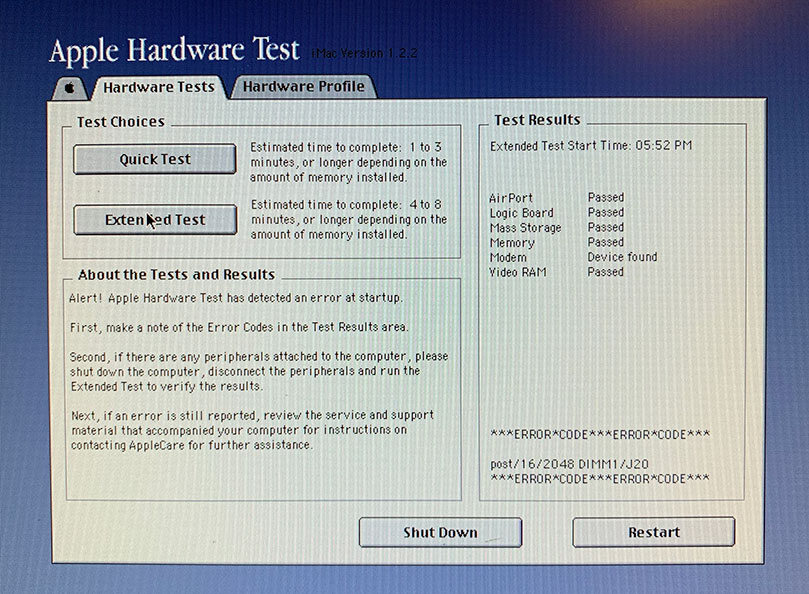 I already knew something was wrong so this did not help me at all. The issue is the module that Greg T sent me, not the modules I had. After giving him a good roasting over this (and public shaming by means of this post), I put the original 256MB module back in. I'm now still at 768MB but at least I am there error free. And it's still a step up from the 512MB I had before.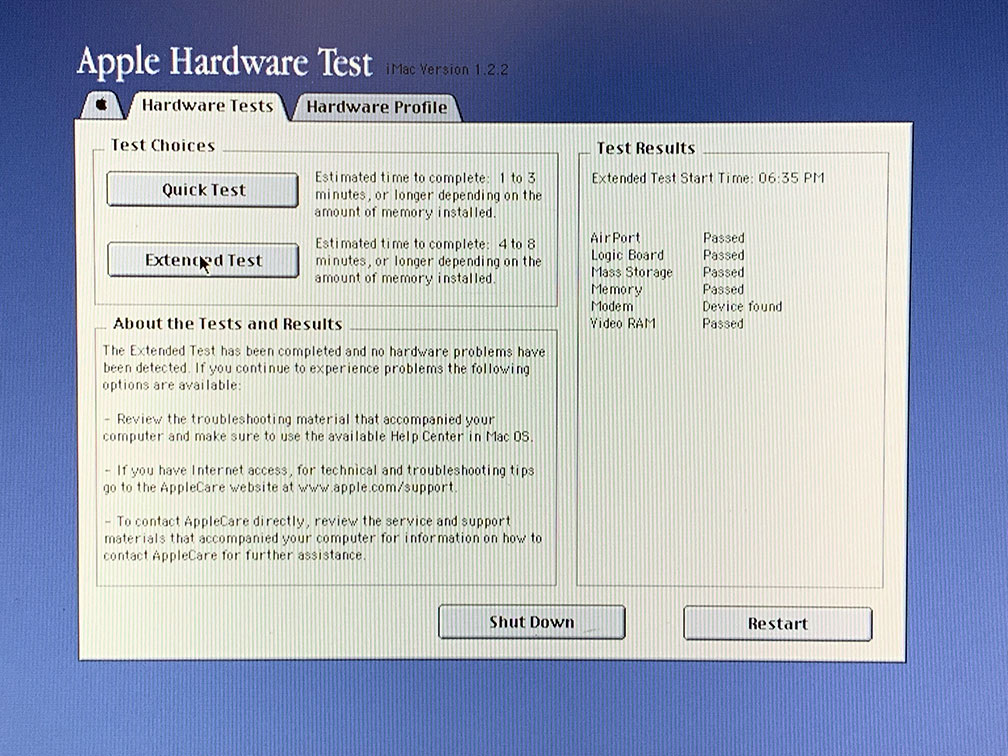 Hard drive test
I put the iMac in target disk mode and checked it out on my Mac Pro. Of course Disk Utility is completely useless on macOS Mojave so I used TechTool Pro to scan the media and DiskWarrior to check everything else. The media scan did not find a single bad block. DiskWarrior found too many problems to list and needed several attempts to resolve them. By the end of all this I ended up with a hard drive that was 100%.
Booting back into OS 9, Norton continues to find problems. I have always had great results from Norton but in this case it's clearly not able to help me out, so DriveSaver and similar functionality was disabled.
With all hardware now seemingly OK, despite Greg T's efforts to sabotage my challenge, I am up and running and ready to use this Mac!
Emails were read and sent, articles were typed (including this post you're reading right now), music was streamed, webs were browsed and some games were played. In total, not including testing, I spent a good 4 hours on Mac OS 9 today.
Report from James
March 2nd, 2019
Began some of the preparations for the challenge. Since OS9 has no drivers for my usb wifi adapters, I had to give my Clamshell a little help from my netbook to get online by using it as a wireless bridge. I transferred UT 99 from my usb flash drive to the Clamshell's hd. A game of UT 99 was planned for that night but technical difficulties with the server cut the gaming short. So far the Clamshell itself has proven to be a very capable OS 9 rig. After the UT match, I downloaded AppleWorks to the Clamshell to keep my logs.
Report from Jake
So i slept in a good chunk of the day and had company over but that didn't stop me from making some more progress on the challenge. First thing is i imported my iTunes library over to the powerbook and to my delight it worked. I also unhooked my main monitor temporarily to get the powerbook on the desk in my bedroom. From there i had to clock into work for some mandatory extra hours and i used the powerbook for research off vpn during calls or just being bored. i also installed SNES and GBA emulators and am able to play pokemon chronno trigger and other great games on the system through emulation. So overall for day 2 the general consensus is the internet runs relatively well i can do searches watch youtube check email listen to music and even game to some degree looking forward to progressing the challenge further. Things im missing after the first full day is discord native on the system twitch and multiple screens. Overall m still positive about everything and feel like things are going smoothly.
Well i thought i was done writing for today but seems i got a bit more. I successfully installed and ran halo combat evolved. I also went to try some more websites i use and Twitter runs surprisingly well. I was also able to read some threads in macrumors and such so overall the web other then facebook is pleasant. I also got ventrillo set up for the PPC gaming lounge today.