Well a few days ago I found a post in the marketplace on Facebook with the ad for a free 2006 Mac Pro.

I jumped on the post and sent the guy a PM. Well didn't hear back for about 4 hours so sent another PM. Still nothing so I went to the original post in the group and saw that 4 other people had commented about wanting it. That was depressing because I thought I lost this free addition to my collection. As I scrolled down I noticed that the seller posted his address and said whoever gets there first will get it. This was late in the evening so I decided that first thing in the morning I would attempt to see if he actually still had it since it was only a 10 in drive from my house. On the way there I noticed that he posted to the first person that it was still available and that he had til 5 PM to claim it or he was offering it to the next person in line. Well I had not commented at all but was almost there so I was hoping he would still honor his comment about first come will get it. I arrived and sure enough he still had it and I grabbed it. He mentioned something about making it into a BBQ grill but little did he know about the plans I had for this machine.
Being that this was my first Mac Pro I ever owned I was glad I was able to get this one. I like older hardware and the challenges of getting stuff to work on it. I did have an old Power Mac G5 that this will replace as my new media server. The first thing on the agenda was cleaning this new 1,1 up. It was very dirty but Clorox wipes cleaned the outside nicely. Then I opened the computer and saw that this thing had probably never been cleaned, ever. It had huge dust bunnies clogged in the fins of the heatsinks as well as around the fans and in the memory risers. I removed the components and gave them all good cleanings.
Once I got to the CPU I noticed that the paste was completely dried up and useless. I got the cpus out of the sockets and cleaned them up. That is when I noticed that these were not production CPU's at all. They both had Intel Confidential stamped on them with no speed or Xeon wording. I did some research and found out these were Engineering Samples because of the ES stamped on them.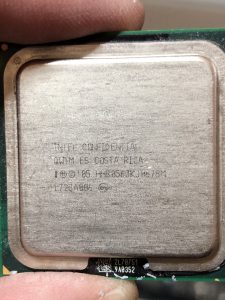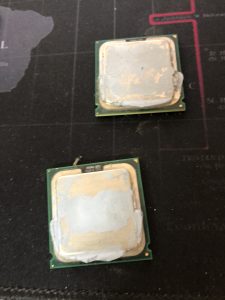 I got everything re-pasted and put back together and turned it on after adding a few hard drives I had (it came with no hard drives or power cord). I installed 10.7 Lion on it to get it to boot. That is when I noticed that the CPU's were actually quad core CPU's instead of the stock dual Core CPU's that were supposed to come with it. This was an 8 core computer. I scored big. The problem however was in about this Mac it said Unknown for the CPU type. Talking to Greg Hrutkay or Hrutkay Mods I found out that these were upgrades and that I should flash the firmware to 2,1 so that the CPU's can be recognized.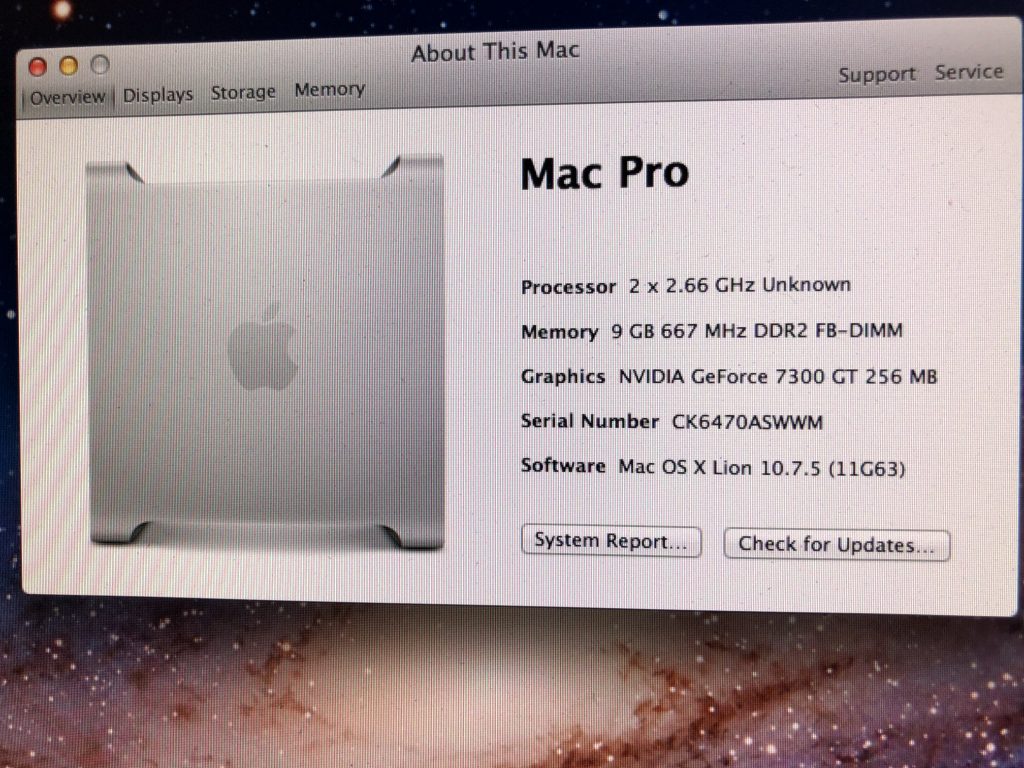 Well this is where the fun begins. I went to his YouTube channel and watched the video in his Mac Pro series about upgrading the 1,1 to 2,1. I downloaded the patcher tool and ran it and then got an error when it tried to download the firmware files needed. Apparently Apple changed the location of the files and the patcher had never been updated to the new location. So I thought hope was lost in getting this system updated to 2,1. Well Greg saved the day again. He sent me a link to download straight from apple which I did.  This is the link to download straight from apple support. Unfortunately I was already on MP11.005C.B08 EFI Firmware and all the software told me was that my Mac didn't need the update. Back to the drawing board.
Well apparently someone else was having the same issue less than a day ago and Greg found the link in Low End Mac from a guy named Chris Batenchuk. He found a way to edit out the installer file and make the patcher actually work. I am not going into detail here on that procedure but will direct you here for the instructions. I followed the guidance here and it worked perfect. After restarting my Mac Pro and resetting the PRAM it recognized both CPU's and showed them as Xeon processors instead of unknown. I want to thank Greg Hrutkay and Chris Batenchuk as well as Low End Mac for the help in getting this task done. Next project is to try and find a new Graphics card for this machine and get El Capitan working on it. More to come in the future.