Or 'Why you should question every single service interaction with Apple.'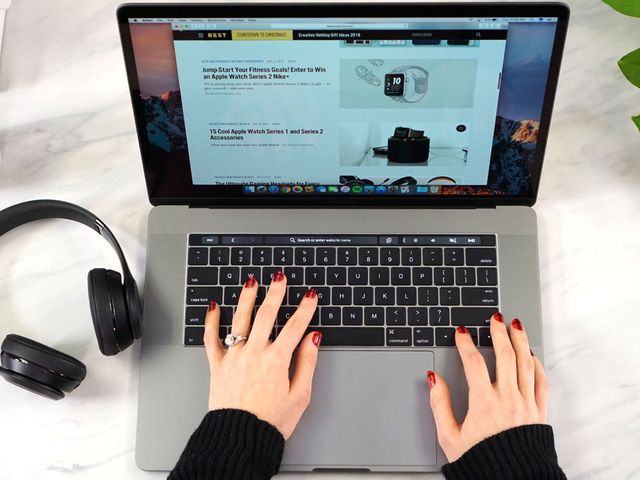 TL;DR? Scroll to the last paragraph.

In 2017, I succumbed to a niggling feeling I had developing regarding buying a new laptop. As many of you know, I'm one of those vintage collector nutters that own way too many very cool machines.

Starting with an early 1977 Rev 0 Apple ][. You know the ones with Integer Basic ROMs and the ventless case, and a little toggle switch on the back of the power supply to power on the machine. Too many of my favourite Apple ///s. A few Lisas. My treasured 128k. A NeXT Cube. It's part of the Apple ecosystem. Change my mind. Anyway, I could write this paragraph all day.

Somehow, like most collectors, I ended up with an endless supply of laptops. My daily driver was, until 2017, a late 2011 Core I7 17" MacBook Pro. It's a lovely machine, but it's huge. And heavy. I found myself buying larger briefcase style handbags to accommodate 'The Behemoth.'

Something had to change.

I fixated on the Retina MacBook Pro 15" with Touch Bar. Yes. I love the Touch Bar. I can feel you judging me, you know. So in July 2017 I caved and bought one. Pretty reasonably, from a discount stationery chain in Australia called Officeworks. Think 'OfficeMax' my US counterparts, you'll get the impression.

The machine was used every day for a few years, but man that Keyboard is rough. The 17" has such a lovely keyboard, and I found myself using it more often. I swear my right arm is in better shape than my left because I carry that thing around. The keys on the 15" are spongey, at best, and I had to blow the keyboard out with compressed air whenever the Space Bar decided it wasn't going to cooperate with my writing style. You know, inserting a space between words. Whoneedsthose?

So, you can imagine my delight when I discovered hundreds of thousands of people had suffered like I had, and Apple launched a replacement program for the keyboards. I quickly read the terms and conditions of the program, and made a mental note of the four, yes (4) year period of eligibility from date of purchase.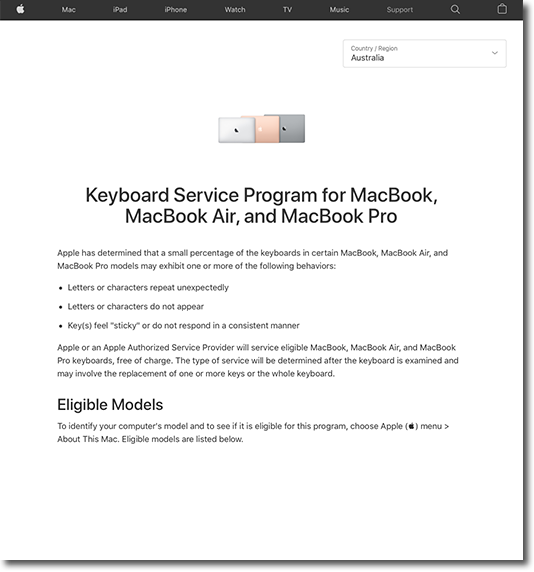 In fact, as you can see, the Apple website has a page entitled 'Keyboard Service Program for MacBook, MacBook Air, and MacBook Pro.' It lists my product. MacBook Pro (15-inch, 2016). And under Additional Information, it states 'The Program The program covers eligible MacBook, MacBook Air, and MacBook Pro models for 4 years after the first retail sale of the unit.'

Now, I remember purchasing this machine around 4 years ago. 'I'm set,' I think to myself.

Three weeks ago, I dropped the machine into an Authorised Service Centre. Apart from my surprise at the insistence of the service fellow that they might lose my data, it was generally a painless experience. 'What? Are you going to remove the Motherboard with a hammer? How often do you destroy SSDs? I've bought a few machines 12 or 24 months older than this one and repaired them. Do you know how hard it is to destroy the SSD? Do your service guys randomly format people's storage devices? Do you need me to get these guys into line?' I really didn't pull any punches with these guys.

I left the Authorised repairer with a healthy level of trepidation for the state of my MacBook Pro.

Fast forward three weeks, and I receive a text from the repair technician. 'Please call PowerMax Computing regarding your recent repair booked with us.'

'OK, so they're not saying it's ready to collect. I wonder if they discovered removing my Motherboard with that hammer was not a good idea,' I thought. According to Apple's records, my MacBook Pro is 3 months past it's keyboard replacement eligibility period. 3 months. That's outside the warranty period, of a well publicised and documented complete failure of a manufactured part, by 6% of that period. The well meaning service representative from PowerMax Computing suggested that I call Apple to complain about their warranty decision and see if they would reverse that decision.

So I immediately called Apple. Their support representative, from his salubrious offices in downtown Mumbai, would have none of my complaint. He kept repeating, 'It's 3 months past the warranty period. There is nothing that can be done.'

'Oh,' I replied, 'So, how is this four year period calculated?' I asked.

There was no intelligible response, other than to type up my complaint and forward it to a supervisor.

Alrighty then. GoogleFu to the rescue.

While my Punjabi friend furiously typed a contact report, I decided to find the page, on Apple's website, that described the Keyboard Replacement Program. I quickly identified that my MacBook Pro (15-inch, 2016) was still listed as eligible on that web page. 'It's listed as eligible on your web page,' I exclaimed. He asked me where and I advised him to search using the same key words I had. This wasn't changing his mind.

'The bottom paragraph under additional information says for four years from date of purchase.' He stonily replied.

Date of purchase? Date of purchase! I quickly searched my email for the invoice. I bought the machine online, so the invoice would have avoided my sloppy paper invoice filing nonsense, and I would still have a digital copy. I found the document. 'Ah, my dude? Listen,' I interrupted my call centre friend, 'I purchased this laptop in July, 2017.' The Apple website clearly states, 'from date of first retail purchase.'

After he fumbled about for a while, he promised to connect me with a supervisor, and promptly disconnected me.

The supervisor eventually called me back. She began the call with, 'Alright, so I'm looking at your serial number records here, and your MacBook Pro is 3 months past the replacement program warranty period of 4 years.'

'Yes, I replied, but the purchase date on my invoice is 4th July 2017. It's within the period. I can send you a copy of the invoice.'

The call went a little quiet, then she responded. 'Oh, yes, well, it appears that the retail purchase date of your device is not listed in our records.'

Oh. NOT LISTED IN YOUR RECORDS. So Apple, in their ultimate wisdom, decided not to honor their Keyboard Replacement Program for my MacBook Pro by deducing that my 2016 released machine was purchased in 2016, and therefore '3 months' out of warranty, given it's now 2021. How convenient. Does this mean my Mac Pro Twelve Core 2.7 (late 2013) powered by a single 2.7 GHz Twelve Core 22-nm Xeon E5-2697v2 processor with a dedicated 256k of level 2 cache for each core and 30 MB of level 3 Smart Cache, 128 GB of 1866 MHz DDR3 ECC SDRAM, a 1TB SSD, and dual AMD FirePro D700 graphics processors with 6 GB of GDDR5 memory each, isn't covered by my Extended AppleCare Warranty because: 2013? Even though the machine was purchased mid 2018?
The supervisor promised to immediately email me so that I could return email her a copy of the purchase invoice. That email never came. I have been an Apple stalwart for many years. I sing their praises, even when dubious things happen like distributing a hideously expansive laptop with a faulty keyboard. My favourite Apple Machine is the Apple ///, often criticised as Apple's worst failure. I'm a fangirl.

This situation has led me to have enormous distrust of Apple and their intentions. They're more than happy to overpromise in my opinion and under-deliver.
As of an hour ago, I have supplied my authorised repairer with a copy of the invoice for the device, and I await their response.

My advice, to those who will listen, is to question every service interaction with Apple. I was quoted $1,400 to replace this keyboard outside its warranty period, and even though I would have eventually replaced the keyboard myself, at a fraction of that cost, someone less technically minded than me probably would have paid the money. For a widely recognised fault of Apple's design. (I'm going to be brutally honest here, I probably would have paid Bruce Rayne to replace the keyboard – Ed.)

And that's simply not cricket.