Report from Jay
March 5, 6 & 7
The report for the last 3 days of the challenge is very short and boring. I did a ton of website work, listened to tunes, handled my email and browsed the web. UT'99 runs great now with the 7200rpm hard drive so I got a few games of that in as well. During the day job my G4 iMac ran iTunes non stop and my 3 year old son loved watching the iTunes visualizer so he came to visit me in my office often. Without any issues the last three days flew by and because no issues popped up I didn't even think to take any more photos or screenshots. Mac OS 9; It Just Works!
This challenge may be over but I will continue to use my Mac OS 9 machine daily going forward. It's an absolute pleasure to work with 🙂
Report from James
(Day 5) Today I was given a free Darkstone Playstation disc so I popped it in the Clamshell's cd drive to see if it is still good. After finding it works I took a few pics with my phone to upload since Virtual Gamestation has been of interest to some of the LEM crowd for quite some time.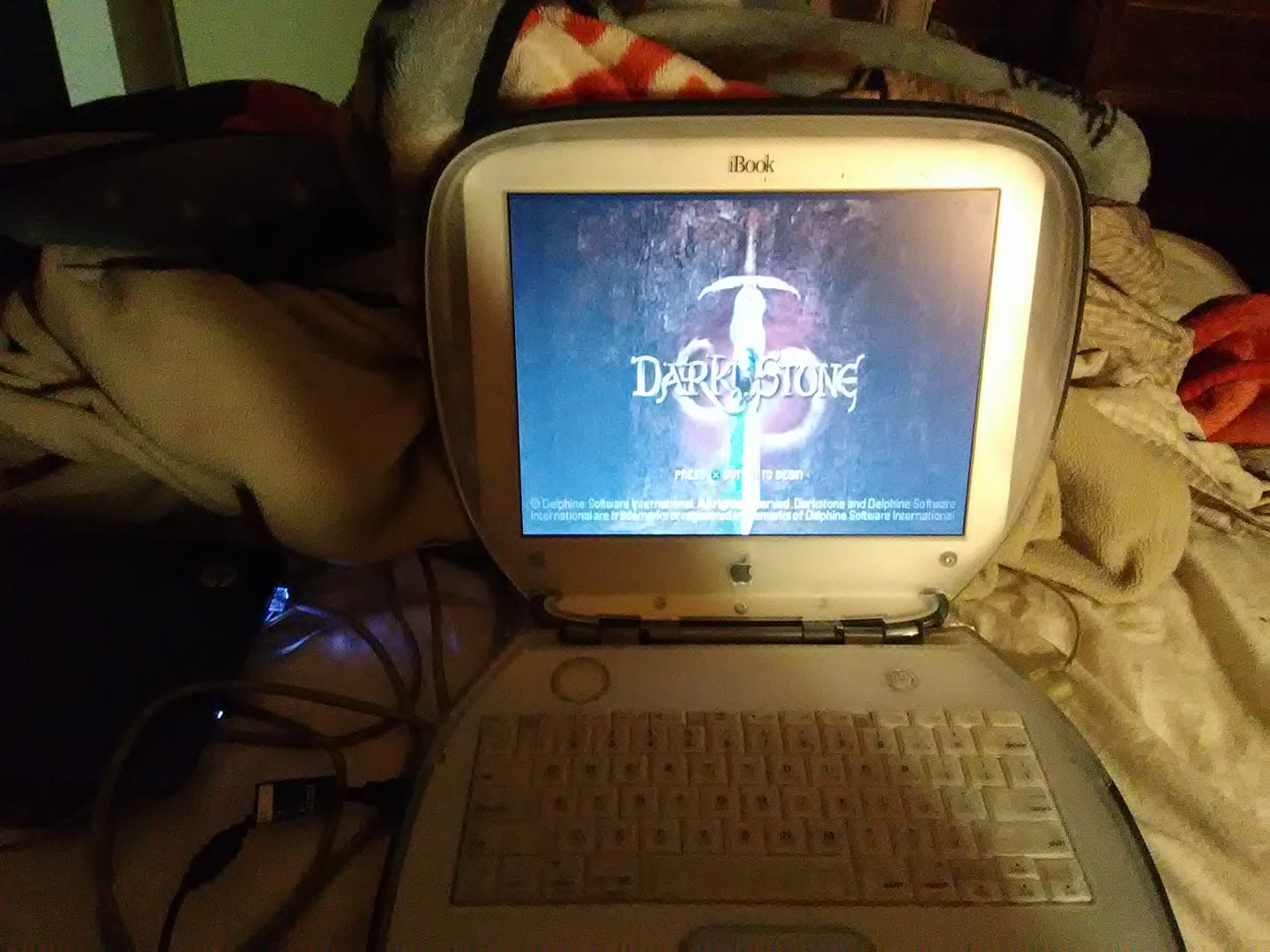 The emulator works great on an iBook, however due to the nature of Playstation games I suggest lowering the screen resolution to 640×480. At 800×600 the age of the Playstation's graphics is pretty obvious. A great accessory for OS9 Mac's with usb is a Playstation 3 Wired controller, especially when using Virtual Gamestation. After goofing around in Darkstone I did my usual FB rounds and had a really epic game of Patriot Command, a clone of Missile Command from the Mac Arcade Pack from the 90's. After defending cities from ICBMs for a while I started on the logs for Days 4 and 5 of this challenge. As I have yet to post the specs of my Clamshell I'll add them to this log. The Clamshell is a first edition of the Graphite SE model (no Firewire) with a 366mhz G3 cpu, an ATI Rage Mobility GPU with 4mb vram, 320mb of ram, and a 6 gig hd with OS 9.2.2 and OS 10.4.11 Tiger installed.