The PPC Challenge kicked off tonight when the Mac Yak show ended. We encouraged participants to share their stories and emails already started in before the night was over! So this post will showcase some of the setups that will be used in the 2020 PPC Challenge. Thanks for the emails and if anyone else wants to share their setups and stories over the next couple of days you can shoot them over to Jay(@)mac-yak.com.
(This post, and all going forward for the next week, were typed up and uploaded from the PPC!)
Due to timezone differences etc. some reports will arrive late or early. These will all be added to the appropriate pages as they arrive.

Iulian P.
Using an powerpc G4 MDD firewire 800 in 2020 is not as
hard as it would seem , well not for me as i am used to utilizing old
hardware on an daily basis .
1. Tools used I am using an Powermac G4 Firewire 800 dual processor 1.42 Gh with 2GB of ram and 2 aftermarket IDE hdd's (see picture). In regards to software I am using Mac Os Tiger, CorePlayer for HD video playback, Ton Vid and PPC Media Center for Youtube playback, iTunes for music and Toast for disc burning and image mounting .
2. If you limit yourself at what your hardware is capable of you'll have fun doing this challenge.
Here are my 2 videos regarding the challenge :
https://www.youtube.com/watch?v=pjsOi9LdVoQ&t=5s
https://www.youtube.com/watch?v=taf2NebtY5w&t=331s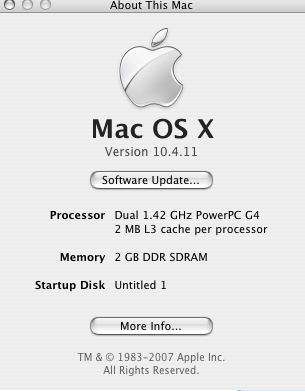 Zack S.

My iMac is in for repair for the next few days, so that's even more of an excuse to use PowerPC for a bit. My machine for this week is my Titanium PowerBook G4 I picked up last year from Facebook Marketplace for $40. It's got a triple boot setup, with partitions for Leopard, Tiger, and OS9. It's got an 800 MHz G4, 768 MB RAM, and a 100 GB HDD. Because of college, I won't be able to 100% give up non-PPC machines for the week, but I'll definitely try to do most of my computer-based time wasting on the PowerBook. I installed a bunch of games on there, and also the basics for productivity, like TenFourFox and Office 2008. Should be an interesting experience!
-Zack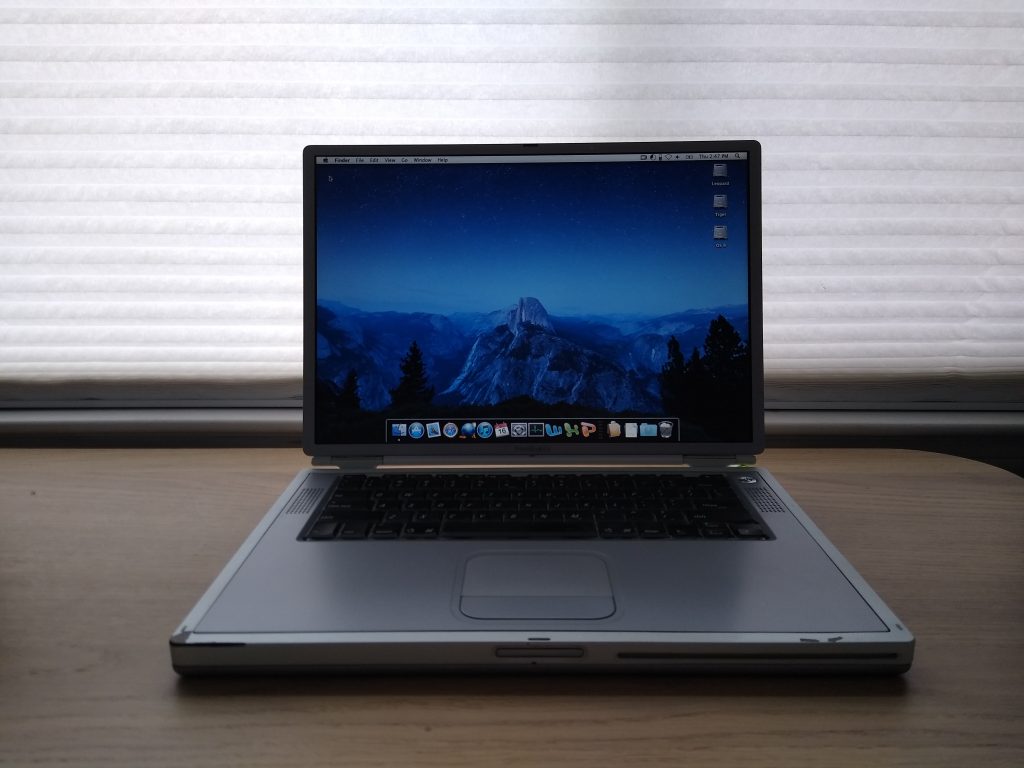 WhackedMoss3
Hello, I write this today on my G4 PowerBook, a useful note-taking device. I have my G5 running 10.6.8 to do mail (somewhat limited) scour eBay, Gumtree and other sell sites for hidden gems as well as looking up on-line manuals for my PC builds and vintage ish* parts and drivers. The downside is, I need to use a modern computer or borrow my daughter's iPad for PC downloads or watch YouTube 🙁 I would like to say I use these items on a regular basis every day, but that would be a lie. The G5 and laptop/iPad are used in the mornings for all that I have stated, the G4 is taken out for notes on PC builds (not nearly often enough) but I use a modern PC to play my games, on-line and single player. I would like to one day get a more modern mac (Intel iMac and Mac Pro pictured are both w i p) but for now the G5 and occasional G4 usage suite me well.
p.s. the keyboard of the G4 is much nicer to use than the aluminum one on the G5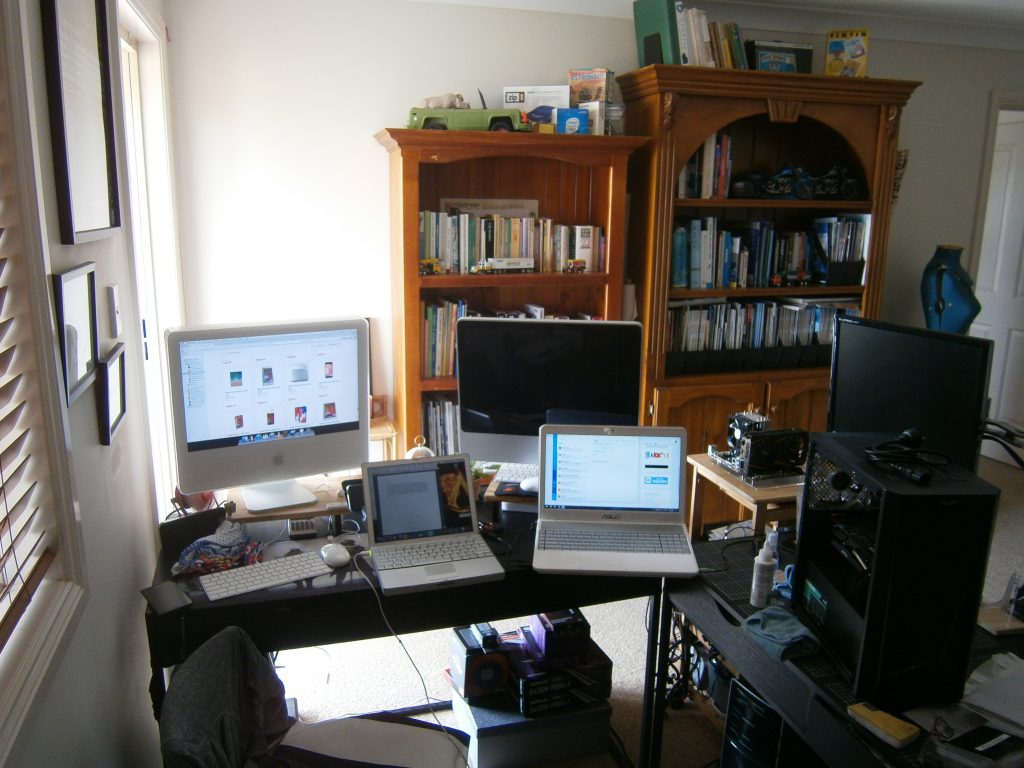 Jakus A. (A man of few words)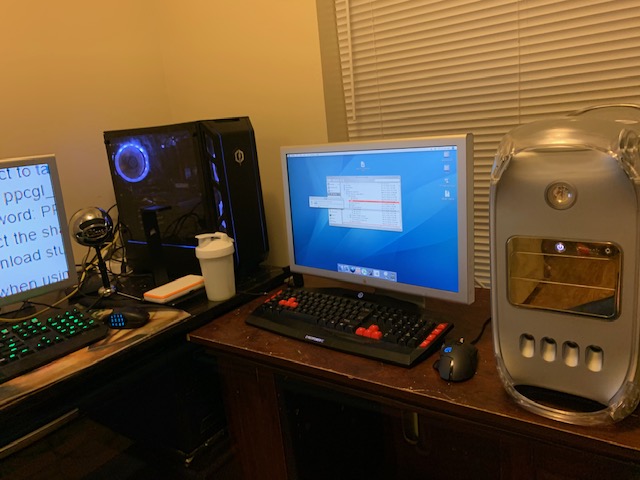 Jay V.
I am stoked about this challenge. Using my PPC to get work done and play old games is such a nice experience. For the challenge this year I have selected my supercharged MDD and un-supercharged it. Dual 867 MHz G4, 2GB RAM, SATA SSD and an ATI Radeon 9650 with 256MB VRAM to drive the displays. Liquid cooling, overclocked CPU and a whole bunch of other fancyness was ripped out to make this a normal low-ish end experience. As for what I'll be using this PPC for over the next week, I'll touch on that in the reports that follow over the course of this next week.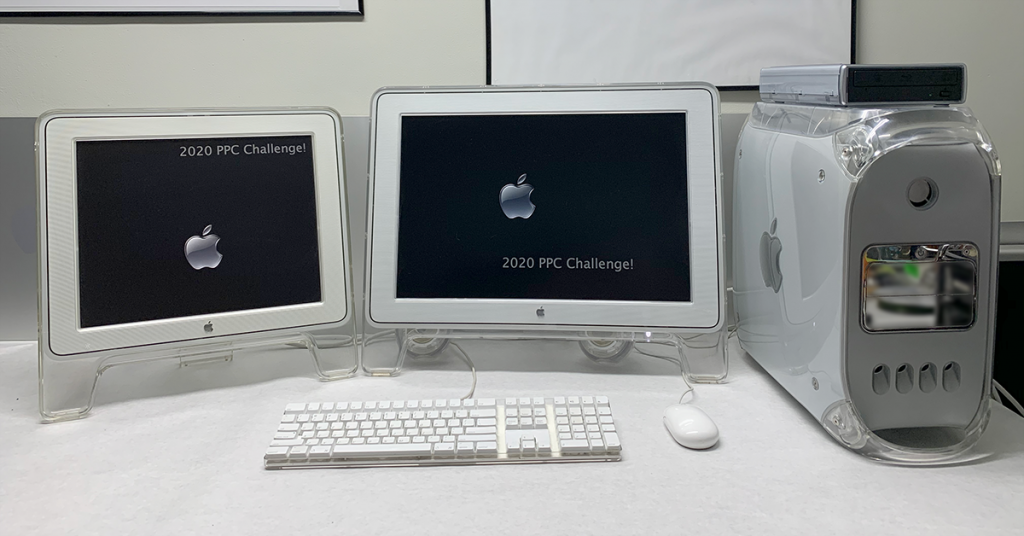 That's it for now, make sure you swing by again tomorrow (end of day) for the reports on the first full day of PPC usage!